Shows & Concerts
Brian provides high-energy and interactive song, dance and music shows for libraries, seniors, festivals and community and family occasions throughout Connecticut.
---
Check out Brian's many
themed programs
on this page!
The Roots of Rock 'n' Roll: 1950 - 1965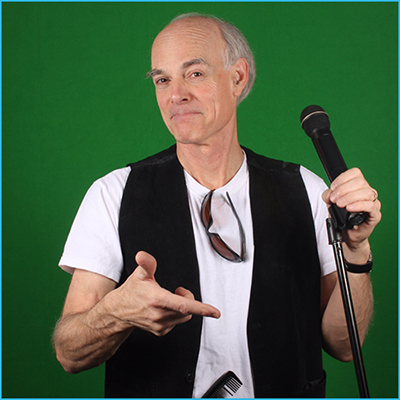 Unlike any history lesson you have ever seen, Brian's "Roots of Rock 'n' Roll" is a hip, one-hour, interactive retro-groove of singing, dancing, history, stand-up piano playing, original sound bites, radio commercials, impersonations and attitude. It's the
story of rock's first fifteen years
and its evolution through gospel, rhythm & blues and country and western. Meet the singers and rock groups from doo-wop, Motown, girl groups, surfin', soul music, novelty songs and more; Little Richard to Coasters, Chuck Berry to Beatles, Elvis to Four Seasons. It's the Rock 'n' Roll Hall of fame delivered to your space.
sh BOOM!
---
Brian Gillie performs "The Roots of Rock 'n' Roll," "Twist & Shout"
---
Themed Programs
Rock 'n' Roll Sock Hop:
Boomer-styled '50s and '60s rock and doo-wop – sh
BOOM!
Valentine's Day:
Your favorite love songs: schmooshy ... sometimes steamy!
St. Paddy's Day:
Brian is part Irish! Of course he can party with the
Green!
Easter:
The bunny's not the only thing hoppin'!
Patriotic:
Wave a tuneful flag on Memorial Day, 4th of July, Flag Day and Veteran's Day!
Summer at the Beach:
The best swim, surf, sunny day and summer sizzlers!
Polka-mania:
Great for your October Fest and bratwurst garden!
Holiday Jinglin':
All the wintr'y favorites to usher in the season –
HO, HO, HO!
Best of Stage and Screen:
Have the popcorn ready for a tribute to Hollywood and Broadway!
Swing Era:
Miller, Goodman, Dorsey; Sinatra, Andrews' Sisters, Prima and more, all in mint condition!
Birthdays:
Your V.I.P.s get to choose their favorites by request!
---
For Seniors
For shows and concerts for Seniors, please visit the For Seniors Page and The Elderly Brothers Page on the site.
---